Where and how can I find a motorbike renting service ?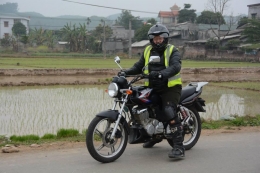 Description:

When coming to Vietnam - land of motorbikes, many visitors would love to experience the thrilling feeling of riding on the "iron horse" and explore ...
Where and how can I find a motorbike?
Motorbike renting service is very common in Vietnam, since it is extremely handy for not only foreigners wanting to try new things but also locals who rely on motorbike as their main means of transportation. Do not have enough money to buy a motorbike yet? Need a special one to escape the city for only a few days? Renting motorbike - fast and convenient with a reasonable price - is an ideal solution.
The first thing one will have to deal with is to find a motorbike that is good enough for his own purpose and capacity. Determining factors include short vacation or long holiday, the quality of the road, plain or mountainous terrain, and certainly the most essential concern- your driving skill. There is a wide range of motorbikes to choose from, from automatic to semi-automatic ones with popular brands like Wave, Dream, or even backpackers' favorite Simson and Minsk. Understanding thoroughly his own needs, one can avoid getting confused when given hundreds of motorbikes at the rental store and save a lot of time on selecting the appropriate one.
In response to people's high demand, renting shops can easily be found in big cities as well as at tourism destinations. Most travel agents and hotels provide this service for travellers so one can contact the receptionists to have detail information and assistance. People can also rent motorbike in specialized shops which are densely situated in the so-called "foreign streets"- the streets where tourists and foreigners staying in each city (the Old Quarter in Hanoi, District 1 area in Ho Chi Minh City, Hung Vuong Boulevard in Hue, for instance).
Price and procedures
As this is a competitive market, the renting fare inside one city is not much different among shops, but depends on motorbike's types and quality. Typically, it will cost $12/day for an automatic motorbike and $10/day for a semi-automatic one, with gasoline included. One will get a discount about 20% if he decides to fill the gasoline on his own and hire the bike for more than one day. Remember to ask for a helmet and lock which are often attached with the bike. In smaller cities such as Hue, the rental cost is cheaper, of about $6 per day without gasoline.
It is not complicated to rent a motorbike as a foreigner in Vietnam. All one needs to do is to submit a hard copy of his passport together with one type of identity papers having photograph like driving license or passport at the shop. Some shop owners also require customers to deposit an amount of money which is equal to 50-70% of the bike's value. Travellers will be responsible for any incidents and damages of the bike.
Other tips
It is advisable to test the bike's condition carefully before signing the contract and pay deposit. Brake, light, horn and lock are among the most important things for safety reasons.
Observe thoroughly to check whether there are any scratch or corrupt on the bike or not, and inform the owner about them. Normally, the newer the bike is, the more secure it is. For your information, Wave RS is considered the most popular and easiest one to ride!
If you plan for a long trip, be well-prepared with a map, a motorbike repair set and do not forget to ask the location of the gas stations!