Vietnam – Outdoor Adventure Tours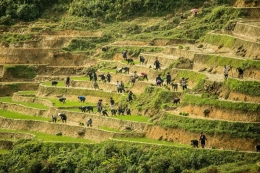 Description:

Drawing yourself away from the busy cities and towns and participating in many of the outdoor sports on offer can be the highlight of a visit to Vietnam. ...
From ancient valleys and craggy peaks to gentle undulating hills and rice fields, Vietnam's diverse landscape offers some of the best walking in the world. Take on multi-day guided trek in the rugged North, stopping at minority villages along the way, or alternatively take a shorter hike around of the many National Parks.
If speed is more your thing, exploring the country on two wheels – whether it be bicycle or motorbike, can be a fun way to get off the beaten track and see a side of Vietnam beyond the standard tourist trail. Classic road trips include following the Ho Chi Minh trail or the Dong Van to Meo Vac Road in the North.
At a more leisurely pace, why not spend some time on one of Vietnam's golf courses? With over 21 courses to choose from – of which many are world class, superb weather, and breathtaking scenery, Vietnam is the perfect destination for an unforgettable golfing holiday.
Finally, any trip to Vietnam is not complete without spending a night or two in a traditional village home-stay. With over fifty distinct groups each with its own language, lifestyle, and cultural heritage, spending some time in a village is the perfect way to see Vietnam up close.
HIGHLIGHTS:
• Conquering Mt Fansipan. At 3,143 metres Mt Fansipan is Vietnam's highest mountain. Although only 9km from Sapa town, the trek takes at least three days to get to the peak and back.
• Motorbiking Dong Van – Meo Vac Road. One of the most spectacular roads anywhere in South East Asia. The road passes jaw-dropping valleys, incredible limestone pinnacles, and dusty remote villages.
• Visiting Cat Tien National Park. One of the most important sites in Vietnam for the conservation of large mammals, and home to golden-cheeked gibbon, two bear species, elephants and gaur, as well as many important bird species.
• Hitting a round of golf in the Central Coast region. With two of South East Asia's top golf courses and a third soon to be opened, the area is a true golfing paradise.
• Spending a night in a homestay. Get to know the real Vietnam and its people by staying with a local family in a homestay in the Northern Highlands
and immerse yourself in village life.
GOLF
Recently named the "Undiscovered Golf Destination of the Year" by the International Association of Golf Travel Operators (IAGTO), Vietnam is home to more than 31 golf courses, of which many are world class, with a further 65 projects underway. Vietnam's golf courses amidst spectacular natural settings including beaches and rolling hills. With courses designed by such luminaries as Nick Faldo and Greg Norman, and Colin Montgomerie and winning a range of local and international awards, playing a round of golf in Vietnam is a great way to relax in the great outdoors and appreciate the diverse and dazzling natural beauty of Vietnam.
NORTHERN VIETNAM
The golf courses of North Vietnam are situated in close proximity to Hanoi, the historic and cultural capital of Vietnam. With most courses set within the cooler northern mountain regions, on many courses the experience is more reminiscent of North East America than Asia. The northern region of Vietnam is home to the country's largest range of courses suitable to any grade of player.
Notable courses include the 36-hole Kings Island Golf Resort and the Heron Lake Golf Course situated among wildlife areas with frequent sightings of native heron birds, and the IMG designed and built Tam Dao Golf Resort. Courses: Chi Linh Star Golf & Country Club, Dai Lai Star Golf & Country Club, Do Son Seaside Golf Resort, Hanoi Golf Club, Kings Island Golf Club, Mong Cai International Golf Club, Phoenix Golf Resort, Royal Golf Club, Sky Lake Golf Club, Song Gia Golf & Country Club, Tam Dao Golf Resort, Van Tri Golf Club
CENTRAL VIETNAM
Vietnam's spiritual home of golf, Central Vietnam should be the main destination for any serious golfer visiting Vietnam. Located beside a sandy stretch of coastline and serviced by Da Nang and Nha Trang airport, the golf courses in Central Vietnam bring together the nation's top new courses with its finest hotels and beaches. Notable courses include Montgomerie Links, voted Vietnam's best new course when it opened in August 2009, and the Greg Norman designed Danang Golf Club set amongst the sand dunes. With a soon to be completed third course, Laguna Lang Co Golf Club, designed by six times majors' winner, Sir Nick Faldo, golfing in Central Vietnam is fast gaining a reputation as one of the finest grouping of golf courses in South East Asia.
Courses: Danang Golf Club, Diamond Bay Resort, Laguna Lang Co Golf Club (completion late 2012), Montgomerie Links, Vinpearl Golf Club
SOUTHERN VIETNAM
Encompassing Vietnam's largest city, Ho Chi Minh, the lush waterways, forests and agricultural land of the Mekong Delta, and beautiful mountain hinterlands, Southern Vietnam has some excellent world class courses to choose from. Notable courses include the Dalat Palace
Golf Club, ranked number 1 golf course in Vietnam in 2003 by Golf Digest (USA), the Ocean Dunes Golf Club whose signature hole number 9 has been selected as one of the "Best 500 Holes in the World" by Golf Magazine (USA), and the Song Be Golf Course, Vietnam's first international championship golf course and widely regarded as one of the most challenging layouts in the country.
Courses: Dalat Palace Golf Club, Dong Nai Golf Resort, Long Thanh Golf Resort, Ocean Dunes Golf Club, Song Be Golf Resort, Saigon South Golf & Club, Sea Links Golf & Country Club, Twin Doves Golf Club, Vietnam Golf & Country Club, Vung Tau Paradise Golf Resort
TREKKING NORTHERN HIGHLANDS
Vietnam's foremost trekking region, the Northern Highlands is home to towering mountains, bamboo forests, swathes of golden rice terraces, and wild rivers. The relative remoteness of the Northern Highlands not only means that the environment is still in great condition, but beyond the main cities and towns, visitors will often have the places they visit to themselves. Here, walkers can see some of Vietnam's most pristine landscapes before development sets in. For the trekker, the region is also attractive due to its amazing variety of ethnic minority people. Proudly retaining much of their traditional lifestyle and customs, trekkers have ample opportunities to observe local life, and if the timing is right, take in a colourful local market where villages best comes alive in a kaleidoscope of colours, sights, sounds and smells. With the region also being home to some of Vietnam's biggest mountains including Mount Fansipan, which at a dizzying height of 3,143m is also Vietnam's tallest, in the Northern Highlands trekkers have the perfect recipe for a great trekking holiday. Top treks: Sapa region (Lao Cai), Mai Chau region (Hoa Binh), Cao Bang Province, Dong Van / Meo Vac region (Ha Giang), Cuc Phuong National Park
CENTRAL HIGHLANDS
The Central Highlands is situated along the Laos-Cambodia border and extends from Cat Tien National Park in the south to Quang Nam in the north. Whilst the mountains might not be as tall as the Northern Highlands, the region's natural beauty and situation on a number of contiguous mountain plateaus up to 1000m in height surrounded by towering mountain ranges makes it a unique destination and ideal place for trekking. The Central Highlands is home to primitive forests and numerous national parks, including one of Vietnam's most famous, Cat Tien National Park. In the Central Highlands trekkers also have the opportunity to encounter some of Vietnam's most prominent wildlife and some of its most endangered, including Indochinese tiger, huge gaurs, wild Asian water buffalos, and Asian elephants. Home to a number of ethnic minority communities, trekkers also have the opportunity to witness unique customs and traditions barely affected by modern day life. Unlike the Northern Highlands, the close proximity of the Central Highland's to major cities and towns like Ho Chi Minh City and Nha Trang make it a relatively easy detour for those with limited time. Top treks: Da Lat region, Cat Tien National Park, Buon Ma Thuot, Yok Don National Park, Pleiku region, Kon Tum, Bach Ma National Park
Whilst there is no doubt Vietnam is a highly populated country, its remote mountainous regions and host of protected areas mean many of the country's ecological jewels are safeguarded and waiting to be explored by intrepid trekkers. Unlike many other countries, trekking in Vietnam is also linked with exploring the nation's cultural heritage. Here, the many dozens of ethnic minority people live, and provide food, shelter, and fiery rice wine to weary trekkers in homestay accommodation. From the dizzying heights of the Northern Highlands to the contiguous plateaus of the Central Highlands and the watery world of the Mekong Delta, the trekking options in Vietnam are endless.
MEKONG DELTA
The lush greenery surrounding the watery world of the Mekong Delta provides a dramatic contrast to trekking in Vietnam's mountainous regions. Here life revolves around the river which is both the life source of the region's agriculture and the main transport artery of the region. Whilst trekking in the Mekong Delta is more suited to shorter day trips, the region contains many minority villages, and the flat land allows for more sedate hiking. Moreover, the region's waterways and the people it supports also provide an interesting twist to most walks where floating markets, boat activity, lush mangrove forests and cultivated rice fields become the feature.
One the region's most popular mountain treks is to the summit of Cam Mountain (1224m), the Delta's highest peak. Along the way walkers pass whole communities, including huts, temples, and even a post office. At the summit walkers are confronted with the unexpected sight of an eight storey mountaintop pagoda, which during holidays, can be traversed for spectacular views over the Delta and its endless rivers and rice fields. Top treks: That Son region, Cam Mountain 7 To really understand a country and its people you must visit its countryside and immerse yourself in village life. For any visitor to Vietnam spending some time with a local family in a village is a must. With villages often spectacularly located amongst terraced rice fields, on the side of cliffs, in nature reserves or surrounded by lush rice fields, visiting a local village can be the highlight of a trip, and all the more rewarding if you stay in a homestay overnight. Booking a home-stay is best done through a tour operator or a tourist information centre.
WELCOMING HOMES
Living with a local family provides a peek into the daily lives of Vietnam's hard working rural people, their charming traditions, and their simple yet honest way of life. With most still subsiding off the land, home-stay facilities are by virtue basic although most now afford a western-style bathroom with shower and flushing toilet. Most activities occur within the one room which is used for meals, for socialising during the day, and as a bedroom at night whereupon mattresses are arranged under mosquito nets.
THE VILLAGE HOME-STAY EXPERIENCE AMAZING ENVIRONMENT
Home-stays in Vietnam are invariably located in traditional villages in the countryside. Here nature reigns supreme; the air is fresh, water cool and clear, forests pristine, and farmland lush and green. In the North, home-stays can be set in spectacular mountain valleys or terraced mountains. In Central Vietnam home-stays may be in set within verdant rice fields or beside beautiful meandering rivers. Whilst in the South home-stays are common in fishing villages within the Mekong Delta.
VILLAGE HOME-STAYS COLOURFUL PEOPLE
With the majority of home-stays in Vietnam operated by ethnic minority people, visitors are able to gain an insight into their unique and colourful cultures and traditions. Ethnic minority communities that commonly provide homestays include the Dzao, Tay and Thai in the North; the Ba Na, Gia Rai, Ê dê, Co Ho, M?, Xo Ðang, Mo Nông, Êdê, Cham và Gia Rai in Central and South Vietnam. Each ethnic minority group has its own customs and traditions which are reflected in their dress, food, religion, and even architecture. Visitors should try to plan their home-stay trip to include traditional local market day and when most villages come to life.
FUN ACTIVITIES
Exploring forest trails to lookouts, waterfalls or popular river swimming spots, or taking a village tour are popular activities. Joining the villagers at the traditional market is a great way to get to know a place and its people. Simple activities can also be rewarding such as learning to make a handicraft, helping your host family prepare the evening meal, or trying your hand at ploughing a field with a buffalo. Not only are they great ways to have a little fun, you will be learn something new and lend your host family a hand. Of course sitting down with the family over a meal and some fiery rice wine is also a highlight and a great activity in itself!
PARKS CAT BA
Like Ha Long Bay, the landscape of Cat Ba National Park in the Red River Delta of Northern Vietnam is dominated by karst limestone islands rising abruptly from the sea. Complete with mountains, waterfalls, caves and grottos accessible by hiking trails, and beautiful sandy beaches perfect for swimming, there is much to keep visitors to Cat Ba island entertained. The park supports the only known population of Cat Ba Leaf Monkey in the world.
CUC PHUONG
In addition to being one of the best places for bird-watching in Vietnam, Cuc Phuong National Park, about 100km south of Hanoi, is also home to a number of endemic species including the Delacour's Langur and the Short-Tailed Scimitar-Babbler. Visitors to the park can explore its trails by foot or hiring a bike at the entrance to the park. The park is also home to an endangered species rescue centre, souvenir shop, restaurant and mini-hotel.
PHONG NHA – KE BANG
The UNESCO World Heritage listed Phong Nha-K? Bàng National Park is located in Qu?ng Bình Province about 500km south of Hanoi. One of the finest examples of a complex karst landform in Southeast Asia, the park is home to the Sooty Babbler, the Annamese Leaf Monkey, and the Black Leaf Monkey. The park is also famous for its extensive
OUR TOP 5 PICKS OF VIETNAM'S NATIONAL PARKS
network of caves which includes the world's largest cavern and passageway, and the world's longest underground cavernous river. Hiking trails, cave and boat tours, and accommodation are available.
BA BE Located in the distant misty Northern Highlands about 250km North of Hanoi lies Ba Be National Park. Centred around a fresh water lake which at 500ha is amongst the 20 largest natural freshwater lakes in the world, the park is home to such animals as the Snub-Nosed Monkey and the Panthera Pardus Leopard. With caves to be explored, traditional stilt house home-stays, boat tours, and hiking trails, the mountain paradise of Ba Be is well worth the journey north.
CAT TIEN With the hiking, mountain biking and bird-watching arguably the best in Southern Vietnam, a visit to in Cat Tien National Park is a must for any nature-lover. Located about 160km North East of Ho Chi Minh City, Cat Tien is comprised of a mixture of wetlands, grasslands, forest and agricultural land. The park is one of the most important sites in Vietnam for the conservation of large mammals, and is home to goldencheeked gibbon, two bear species, elephants and gaur, as well as many important bird species. Two animal rescue centres, luxury lodging and home-stay options and boat tours are also available. Symbols of key activities and facilities 3 Canoeing / kayaking facilities @ Swimming areas t Bike riding facilities I Horse riding facilities y Boat tours R Restaurants / cafes r Hiking trails G Accommodation facilities h Accessible waterfalls N Fishing opportunities 11 With most of the population getting around on two wheels, whether it be motorbike or bicycle, there is no better way of getting closer to the people than by joining them on the road at the back of a bike. With a range of classic routes available such as the Ho Chi Minh Trail or the Dong Van to Meo Vac road through the Tonkinese Alps (Hoang Lien Mountains) of the north, and a host of terrains catering to any level; ranging from the flat dirt roads of the Mekong Delta to the grand mountain roads of the north, biking is by far one of the best ways to get to know Vietnam and feel its contours. Moreover as every biker knows, unlike travelling by bus, train or plane, bikers have the freedom to get off the beaten track and uncover some of Vietnam's best hidden gems that are overlooked by the masses.
BIKING
CYCLING
Available for rent in most tourist centres, bicycles can be a cheap way to experience Vietnam. Cycling allows the traveller to feel the freedom and see the beauty of Vietnam's hidden charms at handlebar level. In cycling travellers can explore Vietnam actively and experience the most enriching and authentic features of its many destinations at your own pace. From its miles of sandy blue watered coastline, remote back roads, iconic villages, world heritage national parks, luscious subtropical rainforest and rugged wild mountainous terrain, cycling provides a cheap, healthy and intimate experience for any visitor to Vietnam and the perfect way to travel. For the seasoned cyclist, the region around Sapa in the north, and in particular the Lai Chau and Fansipan Valleys, provides perfect terrain for cycling, featuring spectacular mountain views, deep valleys and colouful minority villages. Less technically demanding is the region around Dalat in south Vietnam, a land of lush rice fields, forests and rolling hills. Alternatively, the Mekong Delta region with its flat dirt roads takes cyclists through a landscape of verdant greenery, traditional fishing villages and floating markets. For a true odysseys, cyclists can traverse the country from north to south following the Ho Chi Minh Trail and see the complete gamut of its natural, cultural and historical heritage.
MOTORCYCLING
Taking to the road by motorbike is a great way to experience the splendours of Vietnam and get a thrill at the same time. In order to obtain a temporary motorcycle licence visitors just need a 3 month tourist visa and current driver's licence. Of course, good insurance that covers the activity is also a must. With its winding coastal roads, vast rice fields, tropical forests, rocky mountain peaks and vibrant markets, towns and villages, Vietnam offers something for every motorcyclist. With a week or two take on the Northern Highlands Trail, a classic loop from Hanoi that takes in the very best sights of the north, or alternatively choose a section of the loop such as the remote mountain roads of Ha Giang, the frontier lands between Sapa and historic Dien Bien Phu, or the lush valleys of Mai Chau. Traverse the breadth of the country along the Ho Chi Minh Trail, a supply line used to link North and South Vietnam during the American War, and meet people from the war and hear their stories. Or ride deep into the Mekong Delta and discover verdant farmland and experience rural life on the less travelled paths. 13 Conquor Mt Fansipan in a 3-4 day trek. At a dizzying height of 3,143m Mt Fansipan is Vietnam's tallest mountain, and the "Rooftop of Indochina". Whilst no climbing equipment is necessary, good fitness and a guide is a must. Be amazed at the extensive networks of caves at UNESCO World Heritage listed Phong Nha-K? Bàng National Park, one of the finest examples of a complex karst landform in Southeast Asia. Visit Cat Tien National Park. The park is one of the most important sites in Vietnam for the conservation of large mammals including goldencheeked gibbon, two bear species, elephants, and gaur, as well as many important bird species. Play a round of golf at Vietnam's spiritual home of golf in Central Vietnam. Here golfing enthusiasts will find some of the nation's top new courses with its finest hotels and beaches. Spend a few days in a homestay in the misty Northern Highlands at Ba Be National Park whose spectacular fresh water lake is amongst the 20 largest natural freshwater lakes in the world. 14 Buckle up and follow the Dong Van to Meovac road through the Tonkinese Alps (Hoang Lien Mountains) in Ha Giang. With its towering spires, deep dark valleys and colourful village life, this is unquestionably one of South East Asia's most spectacular roads.
Live like a local and spend some time with a local family in a traditional Mai Chau stilt house homestay. Attend one of the region's Sunday markets, browse handicraft stalls, and immerse yourself in simple yet enriching village life. Go bird-watching at CucPhuong National Park or chance a sighting of one of its endemic species including the Delacour's Langur and Short-Tailed Scimitar-Babbler on a hike or bike ride. Explore the karst limestone islands around Cat Ba National Park and take a hike to the island's waterfalls, caves and sandy beaches perfect for swimming.